The coronavirus lockdown has been partially relaxed by President Muhammadu Buhari and people are looking forward to Monday, May 4.
They want to go out and hustle, but there is a lot that they are not looking at.
First, is that nothing has changed, especially when we look at the number of coronavirus cases that we have in Nigeria.
The figures have only done one thing – RISE. It is a situation that has made doctors describe the easing of the lockdown as premature.
People who live in populated cities in Nigeria are more in a hurry to go out because of the boredom and lack of money that being indoors had created.
They had ran out of money and needed to work to earn.
But people, who are worst hit – artisans – forget that people now look at some of the services they offer as luxury.
Who wants to build a house now that the focus is on staying alive first? Will one build and another will inherit? God forbid.
Who wants to fix his shoes or fix a wristwatch?
People who have cars are not even thinking of servicing their cars, except those who offer essential services that have been using their cars to go to work since the lockdown began.
Will you service a car you have not used for weeks?
People can really do without these services offered by artisan who have ran out of cash.
Aside from this being a huge concern, Monday will be a day to remember for those who will attempt to go to work.
Under-listed are the reasons it would be a memorable day.
1 The Curfew
First, the curfew that is to follow the easing of the lockdown will begin by 6:00 am and end by 8:00pm on Monday and this alone should be a source of concern for workers in Lagos and other cities that experience traffic jam.
Although it is expected that there would be some form of adjustment because of the traffic situation, the Lagos State government has issued guidelines on how activities in companies should be handled.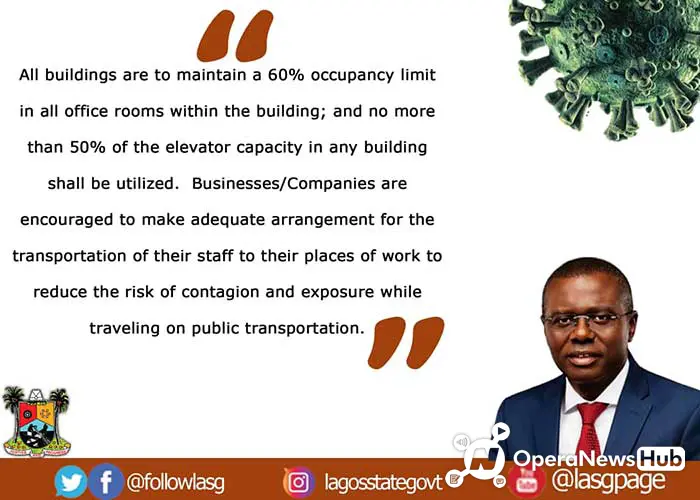 With this curfew, the time workers will spend in the office has been slashed.
The government has even approved this slash for its workers and other companies will surely follow, except they want their staff to spend more money each day.
The situation will further lead to retrenchment of staff in different companies because some of them will no longer be needed.
Some companies have started their lay-off plan while others are still putting theirs together.
2 The Transportation Cost
Sadly, most companies in Lagos do not have staff buses and their workers will have to rely on a public transport system.
Commercial bus owners who have been home for one month will roll out their buses with an increased price, since the government has also insisted that a maximum of 3 passengers are to occupy a seat in the bus.
This will result in increase in transportation cost which is not in sync with the situation.
If you want to go out on Monday, be sure to hold enough money except you want to join exercise enthusiasts and trek some distance.
How willing people are to spend more on transportation and earn less in salary will show in coming days.
3 Salary Slash Announcements
Unfortunately, it will make no sense for an employer to allow its workforce to work for just 5 hours each day and still pay them the same amount of money.
Companies will be issuing staff a choice to accept a salary slash or take the option of being sacked.
The salary slash is as a result of the reduction in the time that each of them will spend in the office going forward.
The NCDC has said that before things will become normal again, it will be in 2021. This means that this year is not looking good for businesses.
Prepare your mind for this news that will come from your employer so that it will not take you by surprise.
4 The Police And Your Pocket
Moving out to major roads in the morning, before 6:00am in populated cities that traffic jam is the order will be an error.
The police will stop you and remind you that it is not 6:00 am yet.
They may not be so bothered about your particulars, but they will politely ask that you give them something so that you can continue to work.
This lockdown period has continued with such polite request sometimes, but the curfew is another opportunity for them to mount roadblocks ones the time is odd.
---
READ ALSO: Why Covid19 Case Keeps Increasing In Nigeria
---
Prepare to offer them small amounts of money or be delayed to work.
In the midst of this concerns, some persons have described Monday as a day of testing the flood, as demonstrated by Noah after the great flood.
Those who will go to the office are advised to go with caution and avoid touching the bus, door handles and other surfaces with their hand.
Ensure that you do not join in the rush for a seat in a bus that will also happen on Monday. Doing so will expose you to coronavirus.
Use your elbow where necessary to open doors, and wear your nose mask to guide against you putting your hand in your nose without caution.
Stay safe.